24 hour Time Trial in the Californian Desert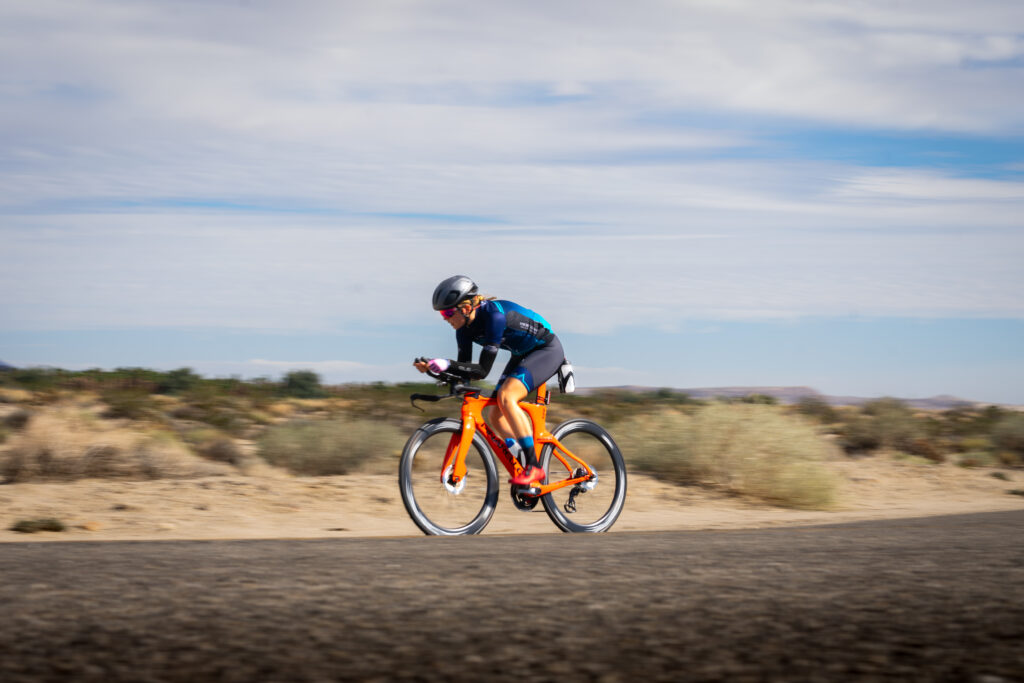 No sleep, a cold night, a sunny day and low humidity – 24 hour time trial

Race Debrief: 24 hour time trial World Championships 2022 in Borrego Springs
Preparations
Mads, our crew and I left Denmark Sunday October 30th. 23 hours later we arrived safely in Borrego Springs, the desert where the 24 Hour Time Trial World Championships takes place. With 5 days to the race, we had some time to adapt to the higher temperatures and the low humidity. As you might know I have been racing in the desert before and know the climate (You can read about my 2021 race here if interested). With that in mind it is still quite difficult to prepare for the climate when living in Denmark. Our last training session back home had been in temperatures around 10 degrees Celsius and with a very high humidity.
The final preparations in the desert went fine never the less. Most of our rides were done in the middle of the day or early afternoon, where the temperature was at its highest. It was hot sure, but I adapted well. The most challenging thing is the low humidity. It feels like inhaling warm and very dry air – everything dries out. A single ride in the evening to see the desert at night and test our lights. Nothing had changed from 2021 – it was pitch black.
Setting up the bikes
Our two mechanics took good care of our bikes and made sure everything was running smoothly. Of course the bikes had been checked before take-off, but after a long journey in a suitcase everything needs an extra check. Travelling around the world with two bikes and tons of equipment is not always easy and we can not bring everything. One thing we hadn't brought with us was a compressor. Luckily the ultra cycling community is almost like a big family – Christy Tracey (female 24h World Champion of 2021) stayed in a house not far from us and had brought her Vandoit (the most cool van with tons of tools in the back). We asked if we could borrow some air for the wheels and Christy was not late to offer her help – thanks a lot.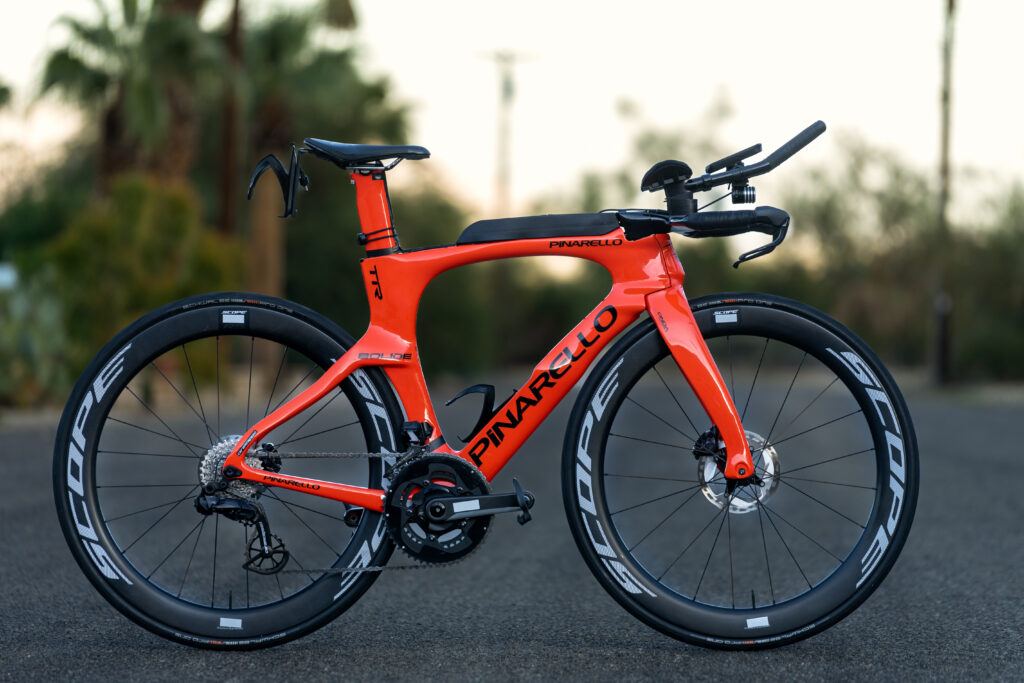 My speed machine, Frame: Pinarello Bolide TR 48.5cm. Gears: Shimano Road Di2 12-speed 11-30. Saddle: PRO Stealth. Wheels: Scope R5. Tires: Schwalbe One Pro tubeless 28mm. Pedals: Shimano Ultegra. Bearings/Upgrades: CeramicSpeed. Bottle system: Elite Cycling Custom Race. Head unit: Garmin Edge 1030. Lights: Custom build by Fyns Batteri Service. Handlebar tape: PRO Bike Gear. Photo: Simon Roesskov Photo
Our stay
The house we had booked for our stay was perfect and placed not far from the course. We did both the big and short lap a couple of times leading up to the race. It was the exact same course as last year. The tarmac was still rough which made it tough staying in the aerobar. It is an almost flat course but very open and sensitive to wind. Last years race was very windy and so were some of our training sessions this year. It seems with the desert weather you never know.
The weather changes
After a few days in the desert it became rainy and very windy – not the kind of weather we had expected when leaving rainy old Denmark. The weather forecast for race day constantly changed making it difficult to plan what to wear. Luckily we had packed both summer and winter clothes. Coming from Denmark you know how to dress up for cold rides.
One of the favorites
The race organizer had presented me as one of the strong female riders which made me slightly more nervous. It somehow was easier last year when I was just a rider from Denmark. I have never tried being one of the favorites – it was kind of exciting but challenged my nerves a bit too.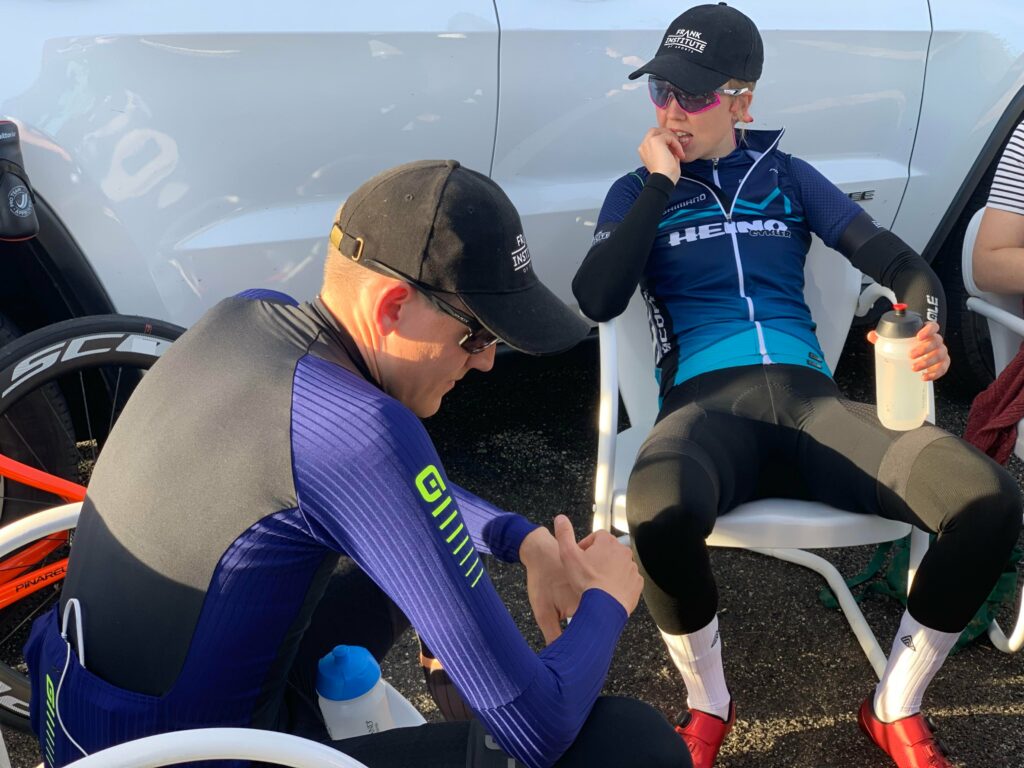 Trying to relax before race start - nerves were definitly on.
Photo: Mads Brejner
Race Day
Race day was on. The 24 Hour Time Trial World Championships was set to start at 5PM. We woke up as normal with a slow breakfast, chatting with crew trying not to get too stressed about the race. The weather forecast suddenly looked perfect. The wind and rain had gone and the sun was up. The view from our breakfast table was beautiful with mountains surrounding the flat desert. I always find it a bit difficult to relax before races. I stress about the smallest things and double check what is packed many times.
Next thing on the schedule was picking up our bib numbers at the pit area and getting a chance to talk with some of the other riders. There is always a special vibe in the starting area on race day. Back at the house we had a light lunch and tried to get a bit of sleep. It is never easy to sleep in advance.
Ready to race
Wow, nerves were on. The race was soon to begin. The crew was ready. We were ready. At the start line next to Mads…ready to rumble. "Take care, be safe out there, see you in 24 hours" – a couple of sentences Mads and I normally tell each other right before take off. And then 3, 2, 1 Go! The 24 Hour Time Trial World Championships was on.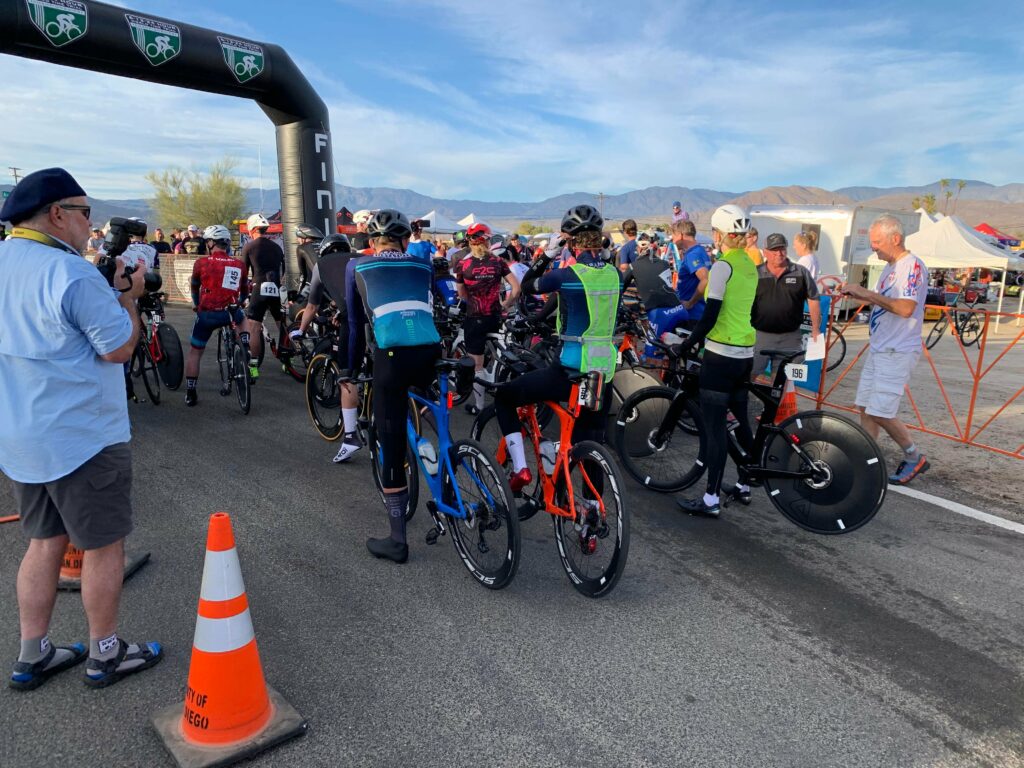 A few minutes before take off.
Photo: Mads Brejner
It was a fast start. Everyone went at high speed. I tried to find a position to keep my own pace. As most ultra races the 24 Hour World Championships is a non-draft event, so you need to find your own rhythm and stay with a minimum distance of 10 meters away from everybody else. It can be quite difficult at the start when everybody is fighting for a good position.
My legs were feeling fine. I found my planned watts. It felt good. The nerves were a bit more under control and I just tried listening to my music, finding my rhythm and enjoying the view. The fast riders were ahead of me but I tried not to get too stressed about it. The race was still young.
Communication can be challenging
The crew called me to check up on me and told I was placed as number seven. Not in the lead but again I tried not to get stressed about it and just stick to the plan. Communication with the crew is an important part in a 24 hour race. As it is non-draft, we do not have any idea about our position after a few hours if the crew do not tell us. It can be challenging in the desert where the signal is not always clear.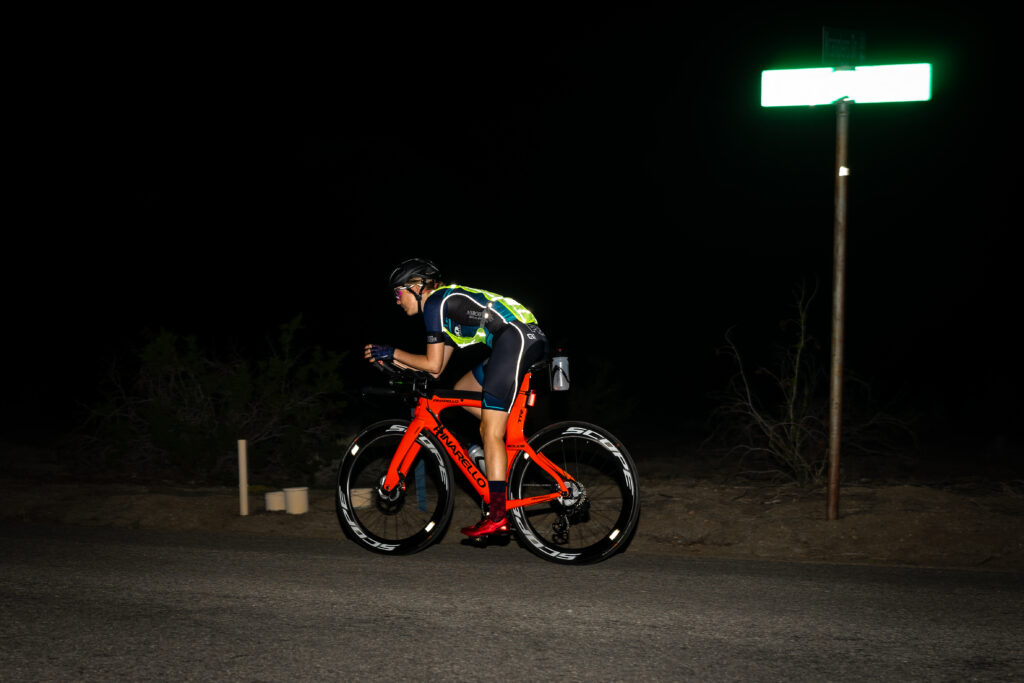 Riding in the dark.
Photo: Simon Roesskov Photo
A cold, pitch black night
I only did a few laps before it was starting to get cold and I stopped in the pit to put on some more clothes. The crew were ready with a warm jersey, shoe covers and some gloves. My fingers were already too cold and the crew had to help me put on the gloves. The temperature changes quickly in the desert.
Off again…the dark came fast and it was time to chase some red lights. Hours later my neck started bothering me. The bumpy tarmac was a challenge. A quick stop in the pit for some neck massage and then back on the course.
Other rides were clearly suffering more than me. Now in 4th position fighting to catch the rider in front of me. In the desert the darkness is massive and sometimes overwhelming duo to the 14 hours. The only thing you see is the red tail lights of the riders that you're chasing. The temperature kept dropping and at one point my head unit showed only 1 degree Celsius…a very cold night indeed. I struggled a bit with my feet even though I was wearing shoe covers. I could not feel my right foot due to the cold.
Trying to stay awake
During the night I had a couple of times feeling sleepy. If you race to win in a 24 hour time trial, there is no time for longer brakes, so I had to pull myself together. I talked with the crew and my parents even called me from Denmark – we agreed they should call me every hour to help me stay awake – it worked. Another weapon against sleepiness is singing…and so I did. I sang out loud to myself. Sorry to all the racers who must have heard me.
Sunrise
After 14 hours of darkness the sun finally showed up behind the mountains, painting the sky red. What an incredible sight. I was now in the 3rd position. As the sun raised there were still 10 hours left of the race. I struggled a bit mentally. Normally when we race, sunset means the race is soon to be over, but not at the 24 Hour Time Trial World Championships.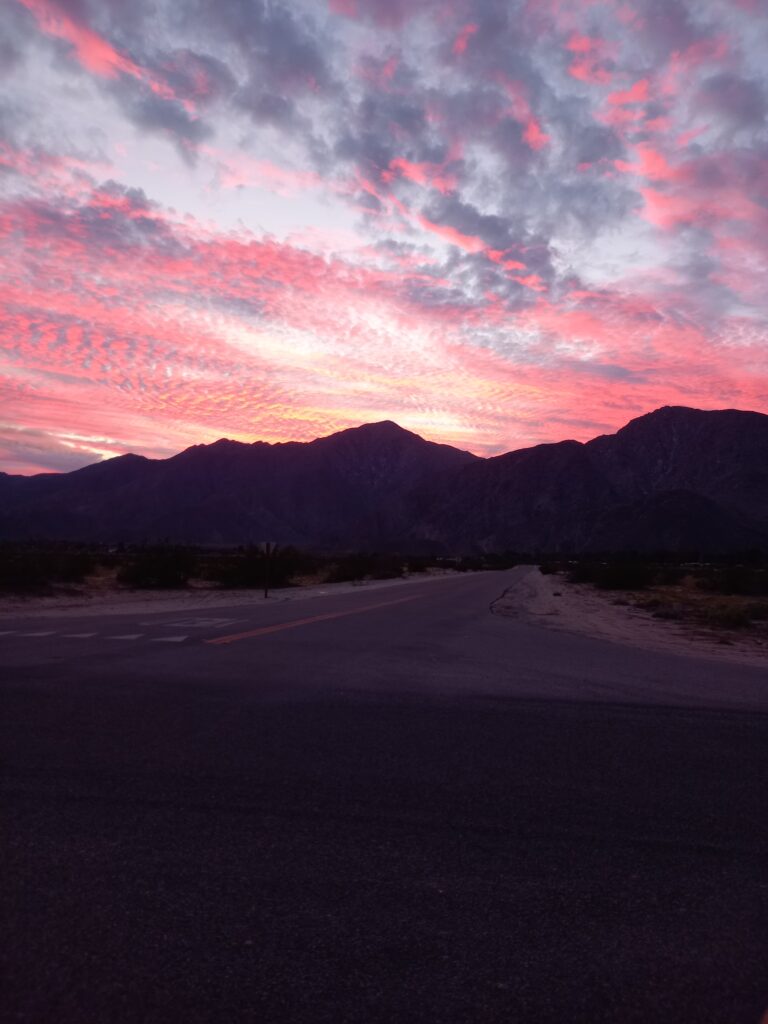 The beautiful sky.
Pancakes for the ride
The crew called asking if I wanted a freshly made pancake. Pernille had been home at the house for some sleep and had been up early to make pancakes, coffee and tea. I had some tea in my water bottle and a pancake in one hand and then back on the course. It tasted so delicious and the warm tea helped me getting some heat back in my body and especially in my right foot. Bringing a food mama for the race was difinitly a good idea!
With the sun comes the heat
I tried to keep the motivation up and kept going. I tried telling myself that now was not the time to give up. The temperature rose quickly and it was time to get some of the warm clothes of. I was in a solid 3rd position and to chase 2nd place. I was going faster…but not fast enough. I tried to push a bit harder and keep going. But the heat starting to take a toll on me and I struggled a bit with hydration and nutrition. The combination of being tired and the sun making the temperature rise is a tough one for everyone. I did not feel like drinking or eating anymore and that really is an important part of a 24 hour time trial.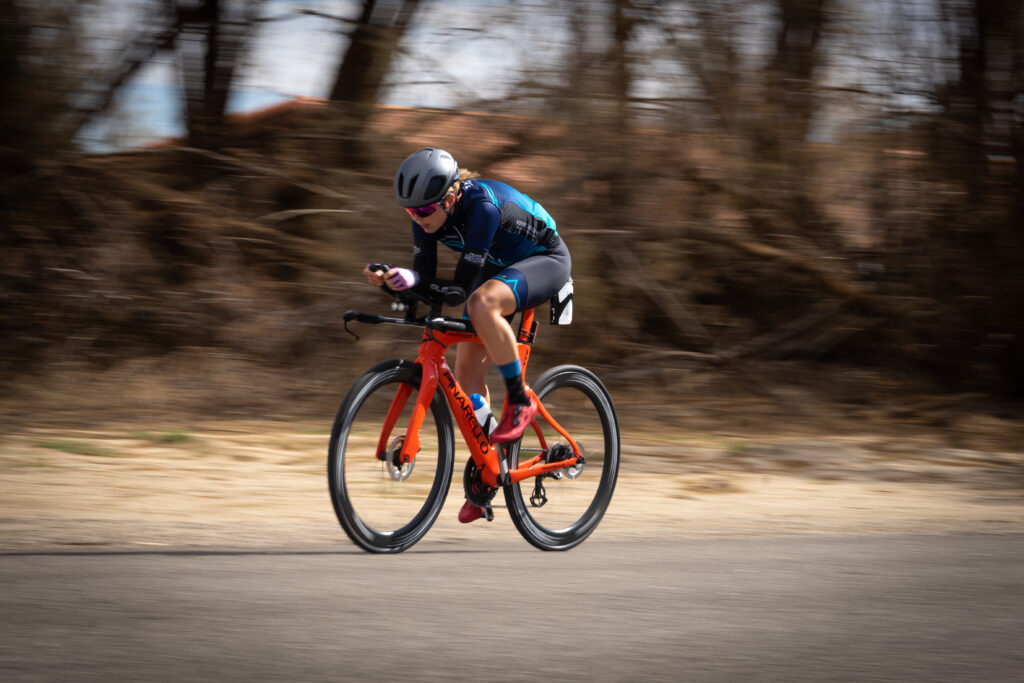 Trying to keep up the speed until the end of the race.
Photo: Simon Roesskov Photo
The end of the 24 Hour Time Trial World Championships
With 8 minutes left of the race I pulled into the pit for the last time. The race was over. I kept my bronze medal and there was nothing left. My neck had been my biggest issue throughout the race due to the rough and bumpy tarmac. The women's field was strong and the two ladies in front of me are both champions with many great results and titles. For full results click here.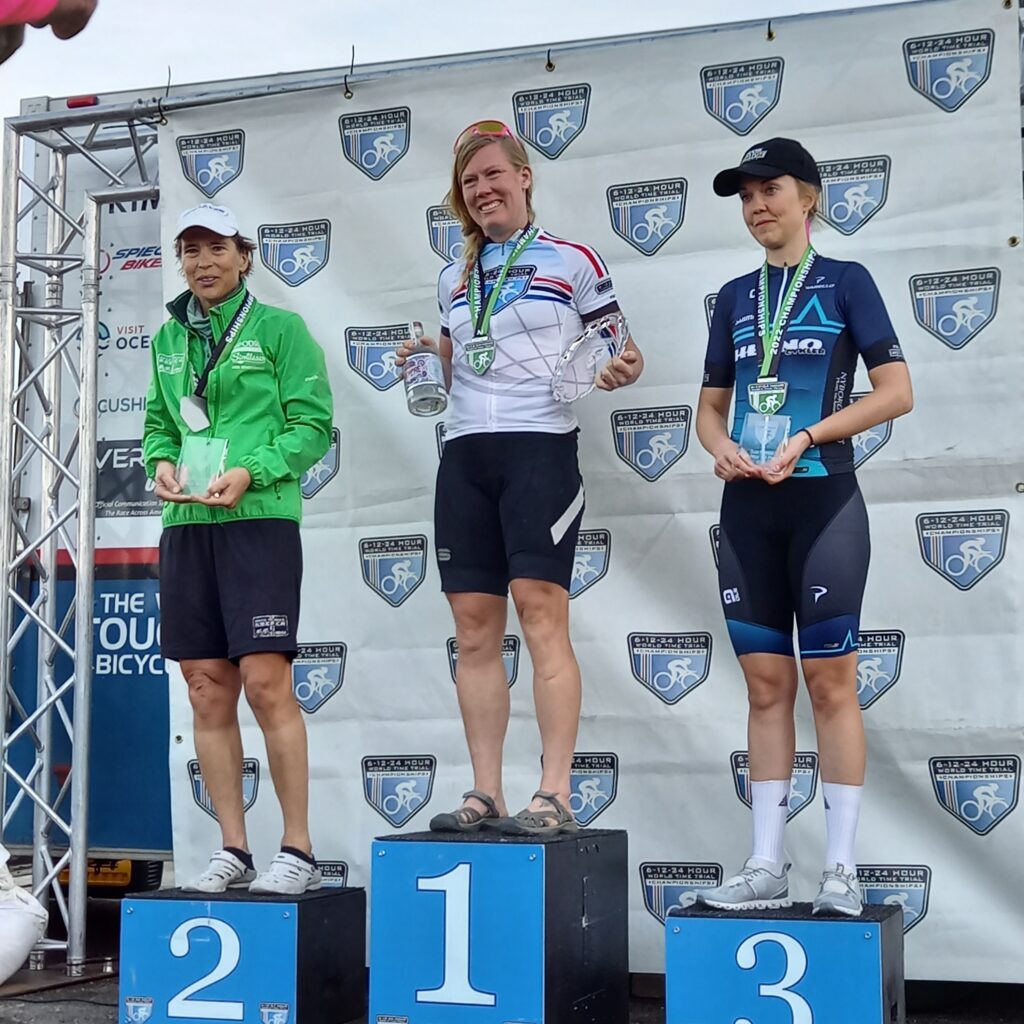 The Podium.
Photo: Simon Roesskov Photo
I race to win. No doubt. But I gave it everything I had. It was a strong field and some tough conditions. I was well prepared and left it all out on the course. Looking back I think I can be pretty happy with the result. There are only 24 hours per day and with a full-time job as a medical doctor at the the hospital, I sometimes do not have enough hours in a day. I guess that is part of the game, trying to find the work-training-balance.
Once again our crew stood up and helped us on our crazy adventures. Even when it is on the other side of the world. Thanks, is not enough! Not to forget our great partners. Without you this was not possible. We are beyond thankful for your support!
For those of you cheering and helping me in the pit, thanks a lot. You know who you are. Thanks for all the online cheering…it really is a great motivation knowing that so many of you support us and follow our craziness through social media. Thanks for reading.