24 hour ride – Race Debrief Helnæs24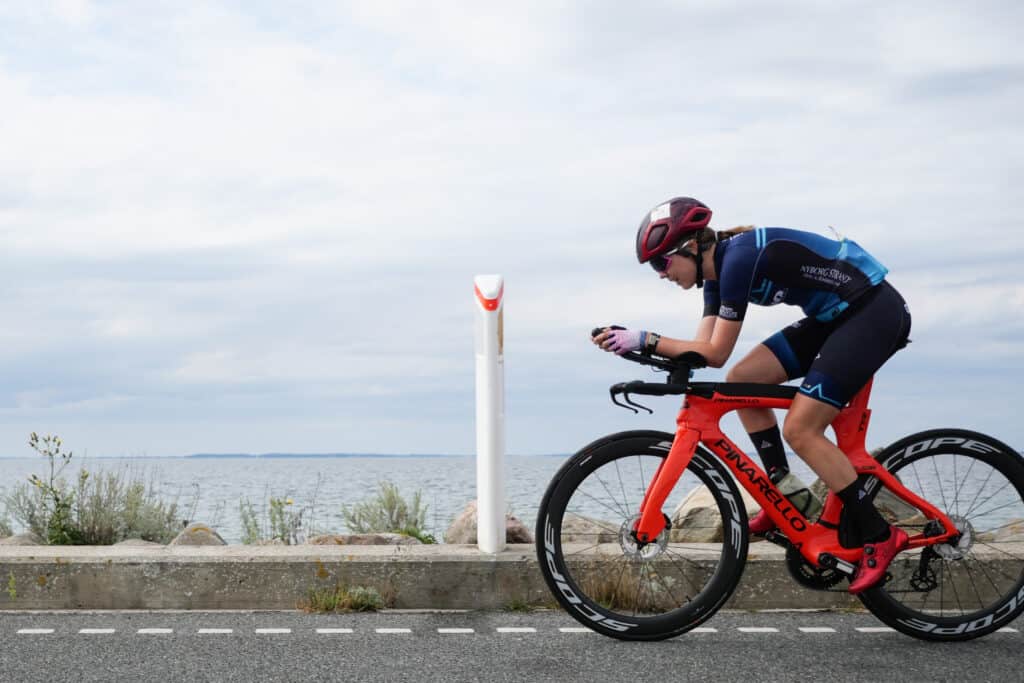 The days before a race are always a bit stressful and I do not know why. It is not that I haven't been racing 24-hour races before and it is not the first time we have to pack everything down to travel for a race. Never the less it always takes more time than expected. The 24 hour ride at Helnæs24 was no exception as you can read in this race debrief. We had the bikes checked at our local Shimano Service Center Heino Cykler, the clothes were packed and the food ready. A good night of sleep and race day was approaching.Helnæs24 2022.
Race day
The key to a 24 hour ride (if you ask me) is a slow morning. We woke up around an hour and a half before take-off and had some breakfast and coffee, slowly waking up. The car was packed the day before and we only needed to put the bikes on the car and drive to the race start area of Helnæs24 2022. Around 8:30 AM we arrived at the starting area in Ebberup. It was a small race this year, but the atmosphere was good with exciting riders and crews. Our crew arrived and we had a little race briefing.
Time flied and soon there was only a few minutes left before race start. 3, 2, 1…GO! At 10:00 AM the race was on and for the next 24 hours it was all about keeping my Pinarello moving forward. Mads and I had made a new strategy for Helnæs24. We started out with a bit higher watts than we usually do. Legs were feeling good and the weather conditions were perfect. No rain and not much wind. The lap around Helnæs is beautiful, especially the ride over the dam is something special for a 24 hour ride. It is beautiful but also very tricky as there is no place to hide from the wind.
First lap done and first time to go through the pit for some supplies – it is important to stay hydrated and fueled during a 24 hour ride. A quick change of bottles and then off again. The first 200 km felt as nothing. The crew called me every lap to check up on me and telling me what was next on the plan. As you now, if you have read some of my earlier race debriefs, planning ahead is everything in a 24 hour race.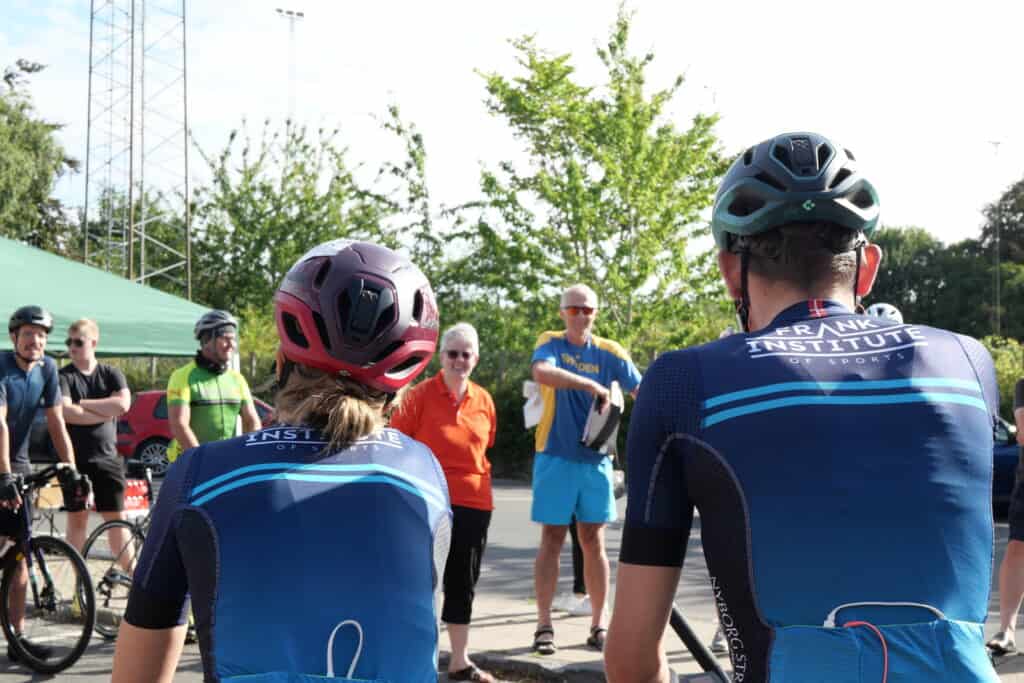 Night time at Helnæs24
Around 7 PM it was time to put on lights and a bit more clothes. I had brought two of my bikes and we had planned a bike change for the night. My road bike (a super cool Pinarello F12Xlight) was ready with lights on as I arrived in the pit. It did not take very long to put on some more clothes – or I did not put on anything, the crew did it for me. Off again. It felt comfortable with the bike change. Even though my time trial and road bikes are set up almost similar it is still not the same feeling. I like riding both of them and feel comfortable, but there is just something nice about a bike change after 9 hours on the same bike locked into the same position.
Sunset was slowly approaching and what a view riding over the dam. Legs were still feeling good but the wind was beginning to increase quite a lot. The dam is open and the wind made it more difficult to control the bike as the fatigue start to set in. I was as mentioned on my road bike and it turned out being the right choice in more than one way. The wheels have a lower profile and I am more comfortable controlling the road bike in windy conditions.
I was ahead in the women category and placed 4th overall in the 24 hour non-draft category. The darkness came and it was time to chase some red lights. There is something special about riding in the dark with only the head light to navigate after. In most 24-hour races I begin to feel sleepy around my normal bedtime, but not this time. I was still feeling well and very awake. Unfortunately it did not last.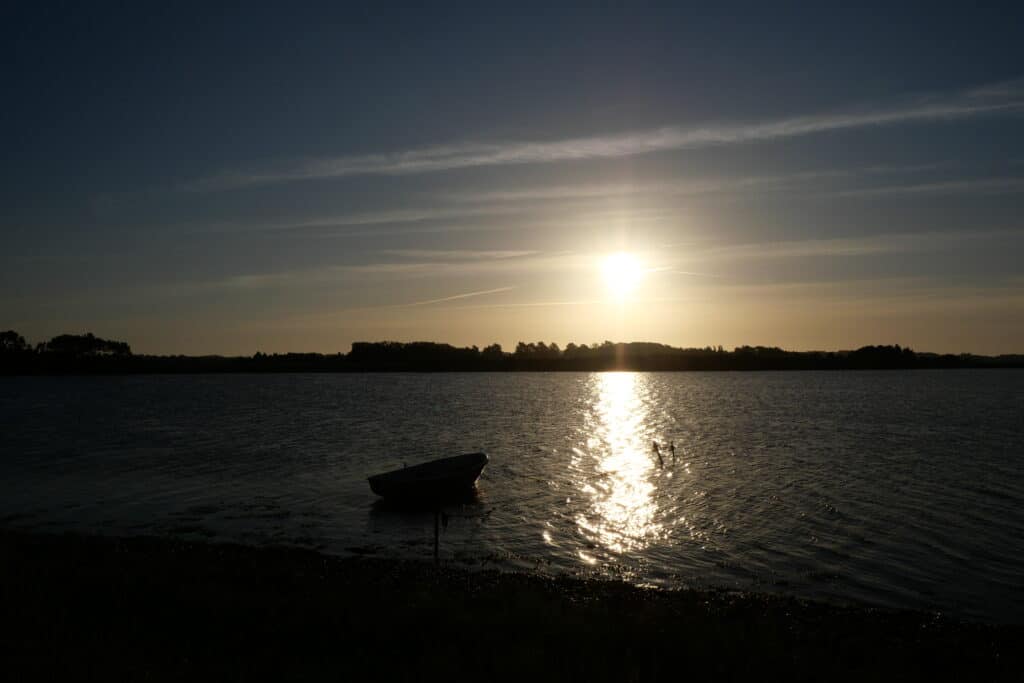 Sleepy – what to do?
Around 2 AM I was starting to feel a little sleepy. Writing this race debrief I know it sounds only natural when you're out on a 24 hour ride for a race like Helnæs24. Never the less it is a problem as A 24-hour race is all about staying on the bike for as long as possible. I talked with the crew over the phone. We agreed that I could have a short stop for a bit of rest and some food. 10 min was all I got, then back on the bike. It was not enough, I was still feeling sleepy. The speed dropped. Again, I talked with the crew over the phone, this time a bit longer trying to keep me awake. I told them we had to do something, I was really sleepy.
When I arrived in the pit they had arranged a chair and a blanket for me. 10 min of sleep and then back on the bike again – I did not have time for any more. Number 2 in the women category was coming closer, and she did not seem to be sleepy or tired at all.
Finding the last energy for a 24 hour ride
The short nap was a good choice. I started to push the planned watts again. The crew told me over the phone, that I only had around 15 minutes down to number 2. It gave me an extra boost of energy knowing that there was actually something to push for. Push, push, push. I slowly began to increase my lead again. Going out on the final long lap, I had around 35 minutes down to second place.
Through the pit and out on the last lap. The crew called me and said I had overtaken the man in 3rd overall but the rider was just behind me. I kept pushing. But then suddenly a fast rider passed me – it was the guy I had just overtaken. First I thought that finishing number 4th overall in the 24-hour non-draft category would be fine.
This thought did not last very long though. The crew used their weekend to help and we had used so many hours planning, it was not the time to just "give up". I found my last energy and started pushing harder in the pedals. In our evaluation of the Helnæs24 race for this race debrief I remember telling myself: "It is only a 24 hour ride". I slowly closed the gap and then I passed him again. Head down, push forward and keep him behind. That 3rd place was mine.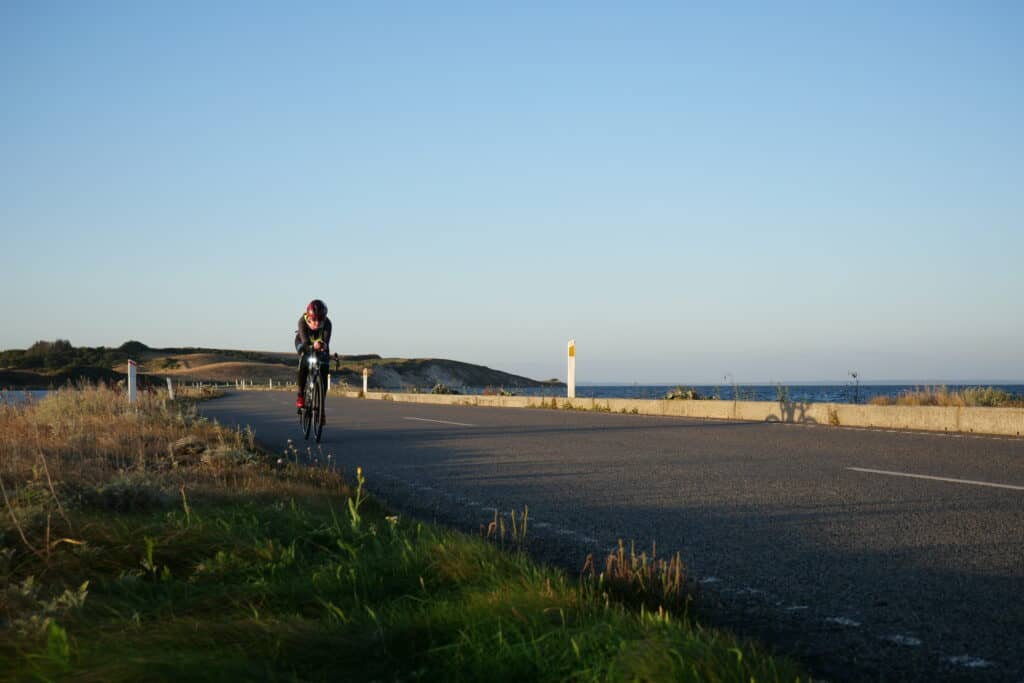 The final of Helnæs24 2022
Riding through the pit I grabbed a fresh bottle of water and flew out on the short lap. Trying to focus and keep the speed up. Looking over my shoulder in every corner to make sure I still had the lead. There was still around 2 hours left of Helnæs24 – everything could still happen. But it looked like I was riding away from him. The crew called and told me I had around 1 minute lead. 1 minute! That is not very much especially not when the race has been on for the last 22 hours. The final lap at Helnæs24 is a bit hilly, or at least it feels like that after many hours in the saddle. Even the smallest hill burns in the thighs.
I kept pushing the pedals. The final lap approached and still placed as number 3rd. Come on…keep going!!! The last turn and the finish line was in my sight. What a relief. 24 hours at Helnæs24 was over. I finished 1st in women category and 3rd overall in the 24 hour non-draft category, Mads finished 1st overall. Actually we finished on the same positions as in Midt24 earlier this year – see Race Debrief here.
Nothing of the above was possible without our amazing crew and our fantastic partners. Thanks for believing in us and always being ready to help. Back home we are now ready to prepare for the next big goal – the 24-hour World Championships in Borrego Springs, California. Stay tuned…
For full results see here.
---
Alé Cycling | BikersBest | CeramicSpeed | Frank Institute of Sports | Heino Cykler Odense | Lazer Sport | Meldgaard | Nyborg Strand | Pinarello | Rudy Project | Schwalbe | Scope Cycling | Shimano