Race Debrief Midt24 2022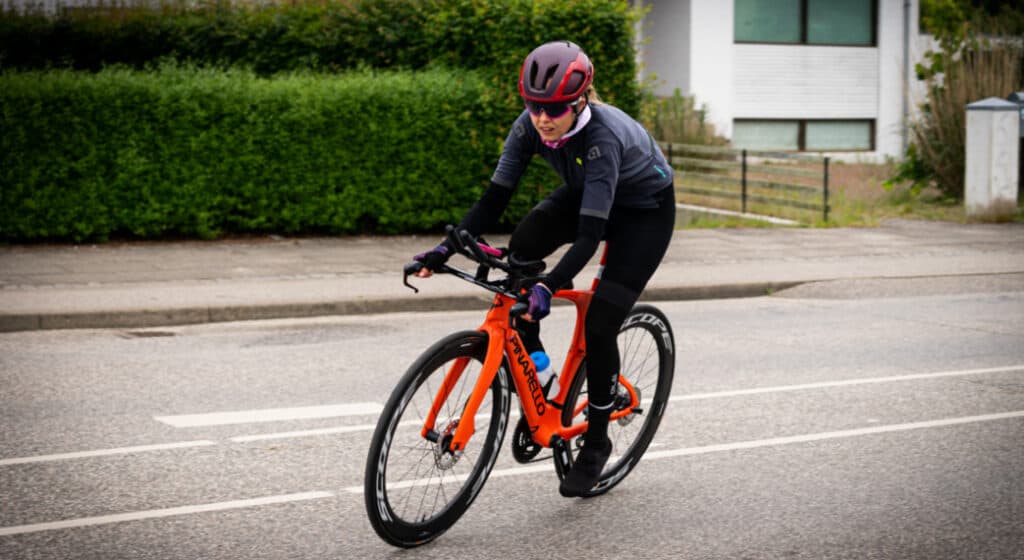 A 24h race like Midt24 starts many days before race day. Everything needs to be planned. The training schedule is set by Mads and I just try to follow. Mads is a geek when it comes to training data and I leave that to him. I am the organized one, so my job is to try to make everything from clothes to food as organized as possible – when the race is first on our crew have to have the overview.
Both Mads and I had taken a day of before Midt24 and that turned out being a very good choice. The week had been busy with work, so almost nothing were packed. Our speed machines had been taken good care of by Heino Cykler Odense, so they were ready.
Friday, the day before the race, started out slowly with a good breakfast and some coffee. Afterwards we drove to Volkswagen Odense to pick up the most fantastic race car – a VW Transporter. Volkswagen Odense has been supporting us with cars for several events now. It is a huge help when brining all equipment, food, clothing, a race tent and 4 bikes! At Frank Institute of Sports we picked up all the equipment for the race. Then home to pack clothing, food and bikes and to have some well deserved lunch.
Finally ready to head towards Snejbjerg and the pit area of Midt24. As we arrived it started raining…so we decided not to test-ride the course of Midt24. It was the same course as last year, so we had been riding it many times before (if you want to know how Midt24 2021 went you can read my race debrief here). Instead we arranged the pit area for the crew, picked up some groceries and drove to our B&B to get some food and rest. It was the most adorable place with a fantastic view to a lake an no noise at all.
Race day at Midt24
We woke up after a good night sleep. Took our time to get a nice breakfast and got dressed for the race. I like taking my mornings slow as it calm my mind. Arrived in the pit area we teamed up with our crew to get everything organized before race start of Midt24. They were introduced to everything in the car: food, clothes, tools for the bikes etc. Of course they knew most of it in advance but we always go through the setup for the race with our team as part of the routine. The crew had already read our race- and meal plan for Midt24.
At 9.50 both Mads and I were ready behind the starting line. The last couple of minutes always feels like hours….9:58, 9:59 and finally 10:00. The race was on! The fast guys including Mads took the lead from the very start. I tried not to get to stressed about riders passing me. I just looked and my power number and remembered what Mads had said: "Do not push to much the in the beginning."
Race conditions at Midt24
The weather was good compared to the night before. Not as much wind as expected, no rain to start with and even a bit of sun. The day course was around 41 km and very flat. The crew called me every lap to ask if I needed anything besides what was on the plan already. I was feeling well, legs were good and my watts were as planned. I was on my new orange speed machine from Pinarello and Bikersbest. Even though it was a new bike I felt comfortable and no doubt it is a fast set-up with my Scope R5 wheels set up tubeless with Schwalbe One Pro tires.
According to the plan I had to shift to my red Pinarello road bike for the night at Midt24. Around 8pm lights should be on and I shifted to the road bike. I have been riding so many hours on that bike, so it felt almost like coming home. The night course was a bit shorter, around 13 km. The next 10 hours was on that course – meaning many, many rounds on the same course, which can be mentally tough but also gives you kind of a rhythm as you can follow your lap times very closely.
Night legs at Midt24
Legs were still feeling good, but I struggled a bit with the motivation during the night. I was leading the women category and was third overall (against the men) with more than 100 km down to the rider behind me. I began to feel a bit sleepy and tried to tell myself to keep going, but as mentioned the motivation was a bit low. I had some short breaks in the pit to get some coffee, tea and a bit of massage, which helped a lot. Back into the night to do more laps.
With a around three hours left of the race I was in the pit for a clothes change after some showers during the night, a cup of coffee and a piece of bread. While sitting in a chair the crew informed me that the man in second place, which Mads had been fighting with most of the race, had stopped in his pit and didn't seemed in a condition where he could continue.
My first thought was: Can I take second place overall in Midt24? I asked the crew how far behind I was. The answer was 100 km. Simon (our crew-chef) was on the phone with Mads. Since Mads is the head of my training I asked Simon to ask Mads if I could finish more than 100 km in less than three hours taking the night loop, final loop, weather and my power numbers into consideration. Mads did not give me the exact answer. But he gave me a number of watts. That was enough motivation for me.
I quickly jumped on the bike. My legs were ready. Riding through the pit area after one more lap I yield "find the other bike" as I blew through the pit for another lap. Push, push, push…I entered the pit area again, the crew were ready with my orange speed machine. I quickly shifted bike and continued chasing more kilometers. The legs were a bit tired, but they kept pushing. Higher numbers than expected. My motivation was on fire.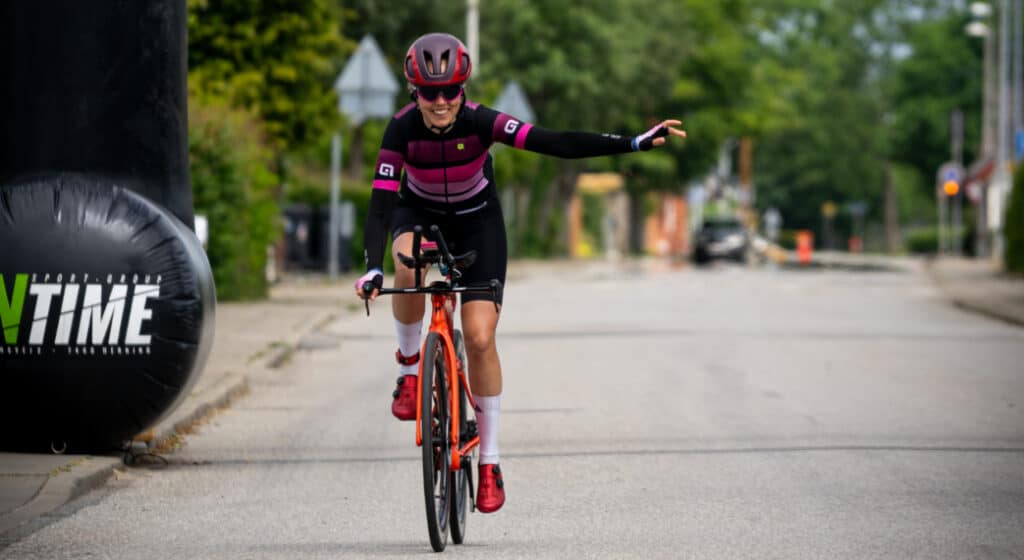 Full on final
The last hour of the race was on a technical short loop around 4 km with a ton of corners. Before entering the first of the short laps, I quickly switched back to my road bike. I was still in third place. Most likely too far behind the guy in second. But I thought to myself… "I have nothing to lose, so lets see how far I can go". With three minutes left of Midt24 I crossed the finish line for the last time. I was 8 km behind second place. Close but not close enough. The result was clear, number one in the women category and number three overall. Entering the podium with Mads placed first overall was a fantastic feeling.
Back home the training is set towards new goals and I have learned that even after many hours in the saddle, I can still find the motivation, turn on the engine and even push higher power numbers than planned. As always it could not have been done without our amazing crew. Ultra cycling is a team effort.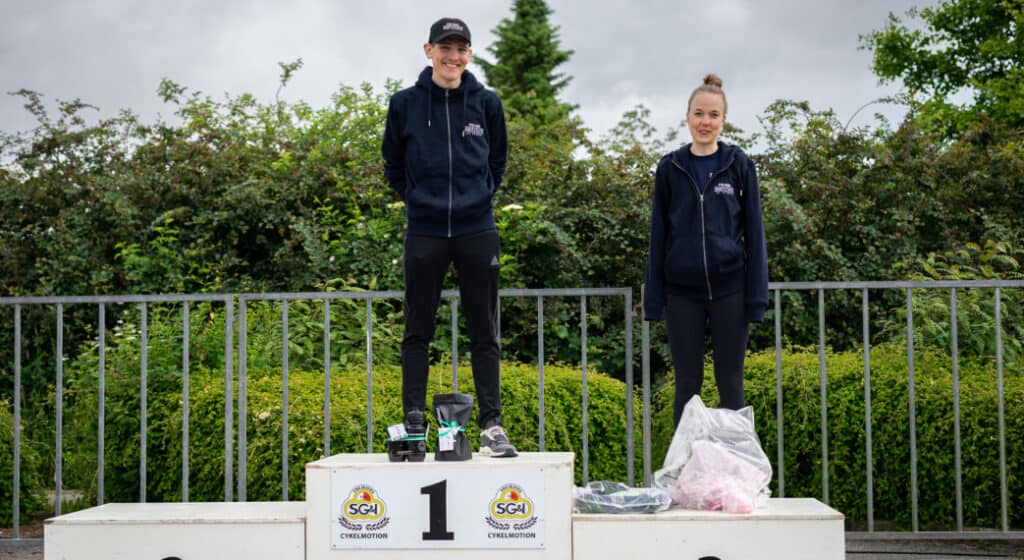 A huge thanks to our partners Alé Cycling, BikersBest, CeramicSpeed, Frank Institute of Sports, Heino Cykler Odense, Lazer Sport, Meldgaard, Nyborg Strand, Pinarello, Rudy Project, Schwalbe, Scope Cycling, Shimano and Volkswagen Odense – we are more than thankful for your support.