Dækvalg, del 3 (på engelsk)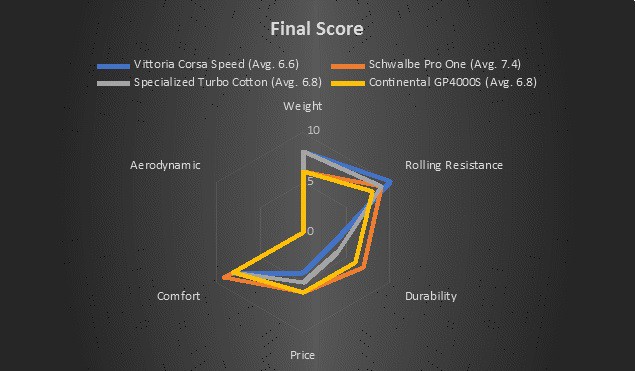 OK, you've decided what kind of tires/wheels you want to be riding (if not check out my quick guide here). In this article I'll give you a couple of examples and recommendations regarding tires in regards to comfort, rolling resistance, weight, puncture protection, durability, price and feeling when it comes to the fast tires category.
The tests
I have tested all tires on the road for feel, comfort, durability and puncture protection. My findings have been compared to a standardized test using a 77cm drum diameter, running with 200 RPM (28.8 km/h), a load of 42.5 kg, butyl tube (for clinchers), (30ml sealant for tubeless) and controlled temperature between 21 and 23°C. The tires tested on the road were not the same but similar to the ones used in the lab. The testing has been Danish Autumn and Spring training in teperatures from -3 to 24°C and all kind of weather (rain, sleet, sun, wind).
The tires
Vittoria Corsa Speed (tubeless 23mm)
Schwalbe Pro One (tubeless 25mm)
Specialized Turbo Cotton (clincher 24mm)
Continental GP4000S II (clincher 25mm)
It's no secret that I've been working with Schwalbe through Project Ultra Cycling since 2016. Never the less I decided to be as objective as possible in the tests to give you the best possible advice. The fast tires category consists of tires which are normally recommended among armatures and pros, ultra cyclists, roadies and weekend worriers for being fast.
The best-priced: Continental GP4000S II
For most people the price is a very limiting factor when it comes to buying new tires. Even though all tires in this test are from the highend department there's a difference of 30€ between top and bottom. The question is if you get what you pay for when it comes to speedy road tires.
| Tire name | Price € |
| --- | --- |
| Continental GP4000S II | 59.90 |
| Schwalbe Pro One | 64.90 |
| Specialized Turbo Cotton | 74.90 |
| Vittoria Corsa Speed | 89.90 |
The lightest: Vittoria Corsa Speed
When comparing weight the clincher tires are including a standard butyl inner tube (100g) and the tubeless tires is including 30ml of sealant (30g) and a 60mm valve (5g). The Vittoria Corsa Speed tubeless is the lightest but all tires seems reasonably light weight.
| Tire name | Weight (gram) |
| --- | --- |
| Vittoria Corsa Speed | 260 |
| Schwalbe Pro One | 291 |
| Continental GP4000S II | 319 |
| Specialized Turbo Cotton | 324 |
The thickest: Schwalbe Pro One or Continental GP4000S II
The thickness of the center and the sidewall of the tires does give me an indication of the durability and puncture protection before actually getting them out on the road. The Schwalbe Pro One has the thickest sidewalls protecting from cuts and punctures. The Continental GP4000S II is thickest in the center indicating a good durability and puncture protection.
| | Vittoria Corsa Speed | Schwalbe Pro One | Continental GP4000S | Specialized Turbo Cotton |
| --- | --- | --- | --- | --- |
| Tire Thickness Center | 1.61mm | 2.33mm | 2.83mm | 2.09mm |
| Tire Thickness Sidewall | 0.85mm | 0.91mm | 0.55mm | 0.73mm |
The lowest rolling resistance: Vittoria Corsa Speed
Talking about rolling resistance it's important to remember that tire pressure is the one thing which affects rolling resistance to most. The lab test was performed with 80, 100 and 120PSI (5.5, 6.9 and 8.3 Bar) to simulate the most common tire pressure for an average road rider. The road testing was performed with 6.0 Bar (front wheel) and 6.3 (rear wheel) with the 5% more pressure rear duo to the weight distribution of the total weight of me and the bike. The lab test shows that Vittoria Corsa Speed has the lowest rolling resistance at all of the tested tire pressures with the three others not far behind.
| Tire pressure | Vittoria Corsa Speed | Schwalbe Pro One | Continental GP4000S | Specialized Turbo Cotton |
| --- | --- | --- | --- | --- |
| 120PSI (8.3 Bar) | 7.7 watt | 11.0 watt | 12.3 watt | 10.1 watt |
| 100PSI (6.9 Bar) | 8.4 watt | 11.6 watt | 12.9 watt | 11.2 watt |
| 80PSI (5.5 Bar) | 9.2 watt | 12.6 watt | 13.8 watt | 12.6 watt |
The most comfortable: Schwalbe Pro One
Training and racing ultra cycling means that you have to ride a lot of km on the bike. By doing that I would say that I have learned to feel my body at a level which I wasn't capable of before getting into ultra cycling. With that in mind I simply love the feel of the Schwalbe Pro On. The feel and grip come from fairly soft rubber. This and the fact that I can go even lower in tire pressure with the tubeless tires gives me confidence in corners and on wet roads. All the tires in this test is really really great tires. The tubeless tires of Schwalbe just have that extra feel to it which cannot be tested in the lab.
The most durable: Schwalbe Pro One
Just below 1800km a pair was the targeted km in training before starting the test last Summer. I wanted to test the tires in typical Autumn and Spring weather throwing all kinds of weather at it. I would swap tires between each session so each set of tire would ride around the same distance per week as part of my training routine.
The Continental, Schwalbe and partly Specialized tires turned out to be great in wet conditions. They handled the everyday training great even though the cotton sidewalls of Specialized Turbo Cotton showed clear signs of use (small cuts) after week 5. The Continental felt somehow heavier than the rest when out of the saddle and less connected to the road surface. Putting in a couple of gravel sections in week 11 resulted in a big cut in the sidewall of the rear Continental tire making it impossible to continue the test. The Vittoria tires seemed to puncture every time it was raining. As for a high-end road tire I was surprised how quickly wear and tear started to show. In fairness these paper-thin race tires from Vittoria are not meant for everyday training and the tubeless sealant doesn't close bigger cuts and gashes. This resulted in me riding the Vittoria as a clincher after week 7. The Schwalbe tires showed clear sign of use but despite rolling over broken glass, rough rocks and who knows what else, the tyres have not flatted.
| Tire/Week | 1 | 2 | 3 | 4 | 5 | 6 | 7 | 8 | 9 | 10 | 11 | 12 |
| --- | --- | --- | --- | --- | --- | --- | --- | --- | --- | --- | --- | --- |
| Vittoria Corsa Speed | 151/0 | 304/1 | 456/1 | 603/3 | 706/3 | 901/4 | 1005/6 | 1144/8 | 1265/10 | 1416/10 | 1622/11 | 1692/11 |
| Schwalbe Pro One | 155/0 | 315/0 | 455/0 | 632/0 | 706/0 | 911/0 | 1009/0 | 1122/0 | 1255/0 | 1401/0 | 1583/0 | 1721/0 |
| Continental GP4000S | 169/0 | 301/0 | 467/0 | 604/1 | 717/1 | 909/1 | 1003/1 | 1104/1 | 1274/1 | 1432/1 | 1605/2 | |
| Specialized Turbo Cotton | 156/0 | 333/0 | 456/0 | 622/0 | 714/0 | 901/1 | 1003/1 | 1132/2 | 1244/2 | 1399/3 | 1601/3 | 1723/3 |
Total km & total no. of punctures pr. week (km/punctures)