Midt24 – Race report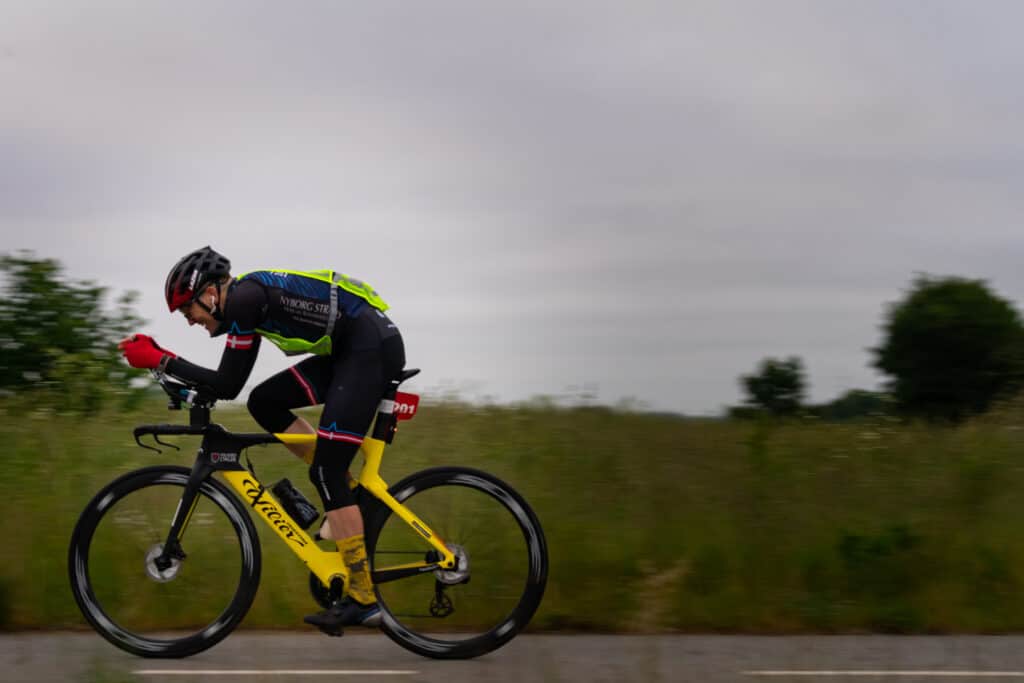 Either "…I win or I learn…". A quote used many times in connection with sports. The thing is…I don't agree. Who says I have to choose between winning and learning? Who says I can't have both? Midt24 was my second target of the year and I sure believe I both won and learned a lot from the race.
Preparations for Midt24
Preparation for a race is always key. If you fail to prepare you might as well don't race when it comes to ultra races. With that in mind I had put a big X in my calendar on June 19th. Focus was to use the race as a preparation towards my biggest target of 2021 (still to be announced). Shape-vise I was around 84-87% for the race. This did not mean that I went into the race without ambitions. No doubt that I was there for the win. Nothing less than that.
Three weeks before the race Caroline and I went to Herning to have a look at the actual race course. One big lap of 41.7 km for the first 10 hours of the race. The open fields around Snejbjerg and the farmland of Jutland would be a perfect playground for wind. The lack of hills and shelter would be an advantage for big powerful riders and not the more lightweight climbers.
The night lap of Midt24 consisted of a 13.7 km loop. The final 4-5 km being inside town streets made it more technical with corners and a lot of road furniture. The final hour of the race was planned to be on a small 3.4 km lap – crit-atmosphere and fast corners. The final loop and night route made us conclude that this race wouldn't be fast and suitable for speed records. Never the less it would be an interesting course with plenty of challenges depending on wind and weather.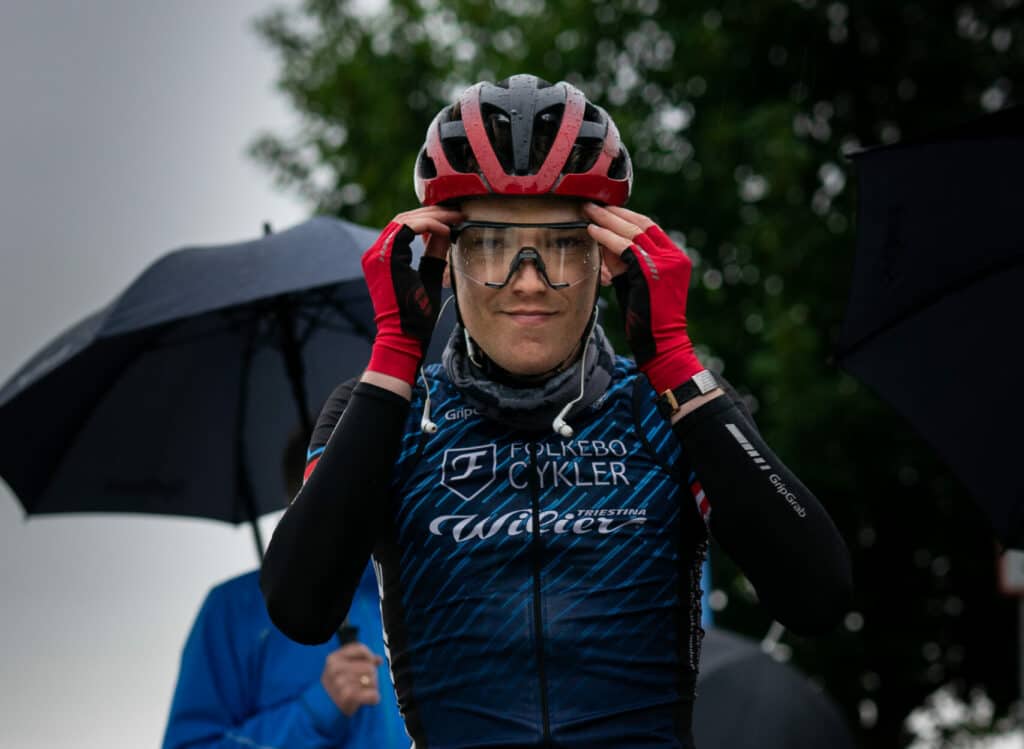 Smooth is fast
As the case with most 24-hour races managing the pace is important. The classic failure being a start way too fast for current level and the conditions on race-day. Different factors affect the ideal pacing. At Helnæs24 last year the very high temperatures were very important. You can read my race report here. At Midt24 riders were passing me riding 5-10 km/h faster than me in the strong headwind. At some point on the lap we reached a turning point. Suddenly I was overtaking the same guys in the tailwind.
Pace managing is so important no matter the conditions. I am pretty confident that we did a good job in the start of Midt24. The pacing was very smooth. I was actually going a bit faster than expected still focusing on keeping my watts low and according to plan. After around 6 hours of racing I was leading the race feeling like we were just getting started. The first quarter of the race had gone so smooth. I had not felt any discomfort or even remotely challenged. Nice seeing that my planned form was there. I have improved my condition since Race around Denmark in May.
On the track of personal records
At the 12-hour-mark I was still feeling surprisingly fresh with little more than 400 km in the legs. Positive that I had been capable of putting in that distance taking the wind and my from into consideration. The crew and I celebrated with a bit of my favorite candy. I expected a drop during the night with the weather changing quickly towards colder temperatures. I knew that stops for clothes changes would likely mean that a new 24h record would be out of reach. Anyway, the gap to my nearest competitors had been growing steadily to a margin of more than 25 km. The crew and I were in no rush to increase watts or change the pacing plan.
Crises come and crises go
In all ultra races crises come and go. It's just a question about the duration and the severity of them. We always rate my crises on these two parameters to lean from them. After around 15 hours of Midt24 I had my first one. My neck was starting to be a bit sore from holding the position. We decided to make a short stop as 1) I had quite a good lead to my competitors of around 40 km, and 2) I didn't want to push the body too much duo to bigger targets this year.
6 min off the bike incl. clothes change, a massage, food, a cup of coffee and a chat in the pit. Until this point I had spent around 8min off the bike for clothes change, pee breaks and fixing lights. It paid off. My speed was going up again and my neck was feeling a lot better. For the next 4 hours I was back on race watts. Even though the crew might say that I was complaining, I wasn't suffering. I was flying past most riders on the small night lap trying to chase down as many back lights as possible.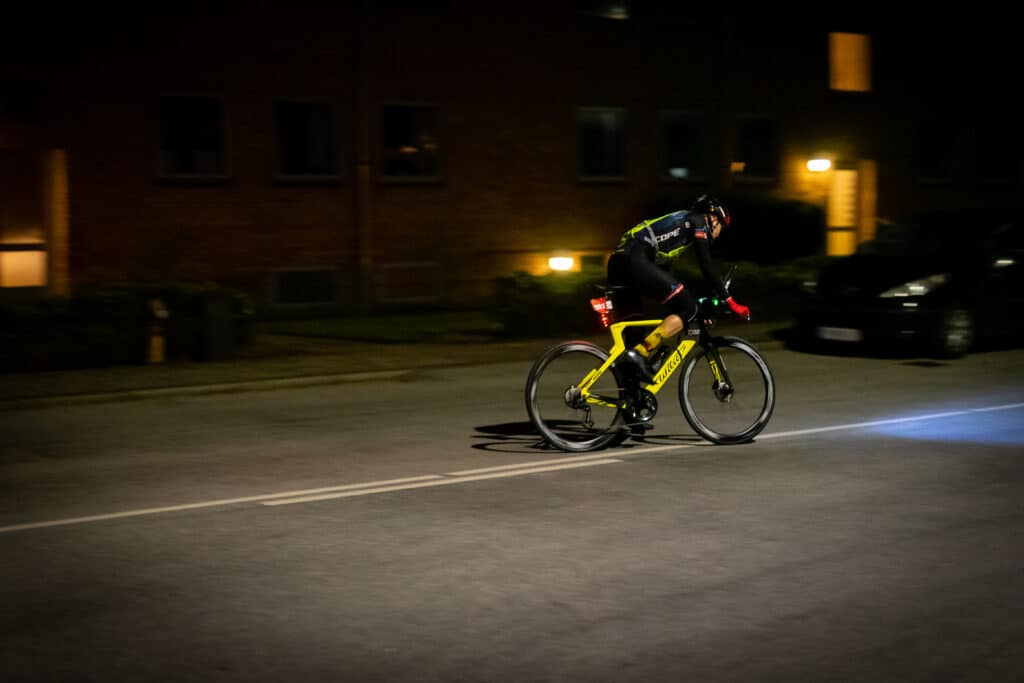 The end game of Midt24
Bringing a strong end game to 24h races is everything. It's in those final hours of the race where you can really make a difference distance-vise. Make the race winning moves. I was starting to feel the fatigue setting in and my power fainting a little at this point. Only normal after 20 hours on the bike you would say? Well, it depends on which kind of shape I am in. With my current level I had expected the decrease in power a little earlier.
By this time the gap to second and third place had increased further so only 1) mechanical problems, 2) bad pacing from my side or 3) an extremely well-planned end game from my competitors would change the overall standing. It suited me perfectly as I did not want to empty the tank completely. As expected the reduction in power and speed during the night had cost me any chance of setting a personal record. Everything between 725 and 775 km was still possible. We decided to play it safe settling into a pace just around the pace of my competitors while carefully watching their pace. Not the perfect end game from my side but a very controlled one.
The shower is coming
After 26 laps on the night route of Midt24 and still 45 minutes remaining I stopped in the pit. The crew were happy but still focused on Caroline who were out on the finishing crit-laps in the pouring rain. I took off my rain-jacket and the moment she passed the starting area I sprinted after her. One final lap just for the fun of it. As Caroline said after crossing the finish line one last time: "We might even get a hot shower before the 24-hours are over."
---
Analyzing Midt24
If you follow my blog and my ultra cycling races you know that I am a man of science. I love analyzing and digging into the after-analysis of every race. Through Frank Institute of Sports I analyze training, preparations and races for a living for the coached athletes. In fact I sometimes even analyze races of my competitors to learn more. So what to take from Midt24?

Pacing plans are key. If you don't have one you will not succeed.

Improving my tapper period towards big targets has been a great focus towards Midt24. Finding just the right formula for me can really improved performance.

Managing two riders, two pacing plans etc. for a team is difficult and something which needs practice.

I can perform even when I'm not at 100%. Knowing this is a big plus and makes me very confident towards my big goal of the year.

Nutrition and hydration once again showed very important in a race with big changes in temperature (from 8 to 28 degrees), wind ((2 to 9 m/s with gusts around 11 to 13 m/s) and everything from sun to darkness, rain and thunder.

So did I win or did I learn? I guess you can do both.
---
If you liked this post you might like the race debrief from my previous race in Race around Denmark right here. All pictures by Simon Roesskov Photo